Watch out Brickell City Centre, Paramount Miami Worldcenter has topped out!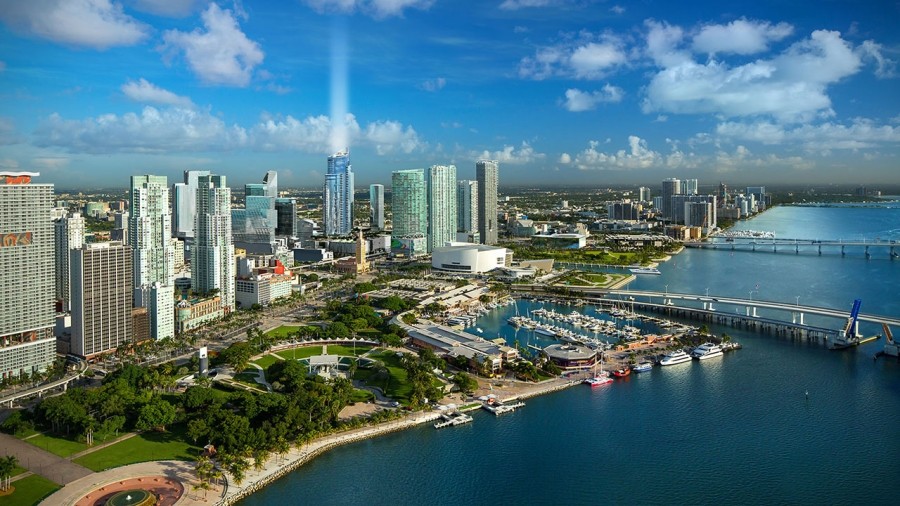 The Paramount Miami Worldcenter has finally reached a monumental construction milestone that so many were waiting for: a stunning final height of 700 feet. The Paramount Miami Worldcenter is a residential tower building with 500 residences and a host of amazing features and amenities that make it a stand-out in the Miami luxury residential district.
Building Features
The exterior architectural design of the building comes from the minds at Elkus Manfredi Architects, who specialize in unique buildings that exude class and refinement. The interior of the building comes from the minds at ID & Design International, who have refreshed and redefined what it means to combine elegance with sleek contemporary aesthetics. The building is designed to house not just residences, but an array of exclusive community activities and experiences that turn the building into more than just luxury residence units--Paramount Miami Worldcenter is an elegant world unto itself.
Unit Features
Units at Paramount Miami World center vary in exact size, layout and number of bedrooms. All of the units have have many luxurious features, including:
Access to a private elevator
10-foot ceilings
Floor plans with entertainment spaces, outdoor living rooms, European-style kitchens, and rain shows
Full-sized laundry room and spa-sized tubs
Convertible den area
Some units may have additional features, such as the lock-out suite in units with 3 bedrooms, depending on their size and layout. Units start at 1,186 square feet for 1-bedroom units with a den and 1.5 bath and cap out with 2,578 square foot 3-bedroom units with a den and 4 bathrooms.
The Paramount Miami Worldcenter Lifestyle
Residents at Paramount Miami Worldcenter aren't just gaining a place to life: they are entering into a luxurious lifestyle designed to fulfill everything they've ever wanted in a high-end lifestyle. And the lifestyle is not limited to single couples, either--the building has many child and family friendly features, as well as accommodations for animals. The building includes truly countless features and amenities, with some of the most notable features including:
Multiple lounges, including an outdoor lounge with gardens
Access to exclusive spas, including a yoga studio, body treatments, bath gardens and more
An indoor fitness center which includes a private boxing studio
Entertainment amenities, such as a children's play room and jam room with recording studio
Access to outdoor activities including a dog park, tennis courts, playground, picnic areas, resort pool, infinity pool, firepit lounges, sunrise pool, a tai chi deck, and more
And these are just a few of the building's many lifestyle-based features and experiences. Perhaps the biggest feature of Paramount Miami Worldcenter is its location: inside a sprawling development that will include office spaces, a high-end retail district, and even a sky port that is designed to--one day--accommodate futuristic vehicles.
Paramount Miami Worldcenter is not just a stunning building that houses high-end residential units. It is a luxury-based lifestyle residential community that completely redefines what it means to live in Miami. When you live at Paramount Miami Worldcenter, all of your dreams and most elegant desires are just an elevator button away.
Contact us today if you'd like to learn more about Paramount Miami Worldcenter and/or are looking to buy or sell. Miami Real Estate Official are local specialist and part of the number 1 agency in Miami Dade and South Florida whom have helped numerous clients with real estate needs accomplish their real estate goals.
The Photos