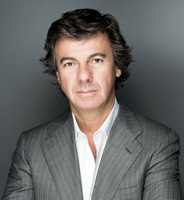 Miami's skyline is developed by a number of professionals from around the world. One of those developers is Ugo Colombo. An Italian born, American, Ugo Colombo is one of the most respected of developers in Miami. In Miami, he has developed a number of commercial and residential properties on all scales.
The Beginning
On March 2nd, 1961, Mr. Colombo was born in Milan, Italy. His schooling was received in Switzerland and before moving to the US he worked with his father at the family owned industrial empire. After deciding to come to the US in 1983, he moved to Miami where he attended the University of Miami.
How He Started
To kickstart his career, Mr. Colombo bought and sold foreclosed units. This allowed him to have enough money to start his own development company, CMC Group. At the time, Miami's real estate was in a state of distress and that allowed him to have a significant impact on the skyline and the city.
The focus of CMC Group was to work on luxury condos in the Brickell neighborhood of Miami along with Aventura and Miami Beach. With an emphasis on high-rise buildings and towers. His first development project was the Villa Regina in Brickell. Within his first several projects, Mr. Colombo was working on buildings costing around $80 million.
But Mr. Colombo did something more than that. He created the windows to be used in Miami. In 2002, Mr. Colombo founded Glasswall. At Glasswall Mr. Colombo worked to create and sell hurricane resistant glass for use as windows. Hurricane resistant glass is now a must in these tall towers that line Miami.
The Collection
Also in Mr. Colombo's portfolio is The Collection, which he acquired in 1994. The Collection is a collection of automotive dealerships including Jaguar, Porsche, Ferrari, Maserati, Aston Martin, Audi, and McLaren dealerships. His dealerships are not just some of the best performing dealerships in Miami but in the whole country. Mr. Colombo bought these from the government after the dealerships had been seized as part of a drug case.
Many people would say that Ugo Colombo's work has changed the Miami condominium world. But not just his condo developments have helped to rejuvenate Miami either. He helped to remodel the Waldorf and Casa Grande hotels, both major landmarks in the United States.
Here are some of the buildings that Ugo Colombo has worked on:
Casa Grande
The Waldorf
Porto Vita
The Ponce
Design at Home
Ugo Colombo is married to Sara Colombo and has three children. Like Mr. Colombo, his wife is an entrepreneur. She owns the NEST design shop in Miami. Her business creates luxury interiors. Together the two have organized a number of charitable events, including hosting them in their home.
Ugo Colombo has had a lot of titles attached to him, visionary, entrepreneur, developer, and philanthropist are just some of them. His history of coming to the country and creating a name for himself is a great example of that.
To learn more about Ugo Colombo's projects and sales please contact me, Eddie La Rosa or call me directly at 305-968-8397.